Run exe with an html link
Buy WebRun Pro now for use in Business enviroment!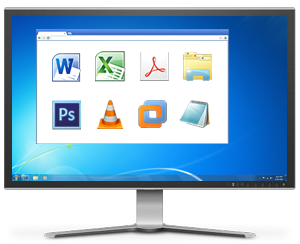 Run any executable by clicking a link inside a webpage
That's right! WebRun is a software for Windows that allows you to run any program installed on your PC, simply by clicking a link inside an HTML page. WebRun also opens documents, launches command line commands and .bat files! The browser is the main application we use today in our PCs. Going back and forth to the desktop or the Start menu to launch your favorite app, is just a waste of time.
Don't lose focus.
Download WebRun now, it's FREE for home users.
Easy to install
Works with Windows XP, Vista, 7, 8 and 10
100% Safe - No Malware or Adware
Cross browser compatibility
NO Javascript, NO Flash just HTML
Doesn't require a browser add on
Pass command line parameters to .bat files and executables
Confirmation feature, confirm any WebRun action
Whitelist feature, allow only whitelisted commands - great for intranet applications
Full support for double quotes in command line commands, useful for .bat files and executables.
Company - Enterprise user license
learn more...